In Raspberry Season
By Rolf Jacobsen
Translated by Roger Greenwald

In raspberry season
the wasps come into the house
and can't find their way out again; day after day
they dash against the windowpanes, sooma-sooma-soom
until we can sweep them out on the dustpan.

For you and me too
there are barriers we can't understand.
Time after time we throw ourselves against something we
cannot see
until they sweep us out one day on the dustpan.
Unless, by chance,
someone on this earth or in the clouds
raises a window so we get through.

Rolf Jacobsen was one of Norway's greatest modern poets. Garnering the highest praise of critics, Jacobsen won many of Norway's and Sweden's most prestigious literary awards, including the Swedish Academy's Dobloug Prize and the Grand Nordic Prize, also known as the "Little Nobel." But he also has earned a wide popular audience, because ordinary readers can understand and enjoy the way he explores the complex counterpoint of nature and technology, progress and self-destruction, daily life and cosmic wonder.( from introduction by Roger Greenwald)

I loved the apt imagery with which the poet depicts a human situation. There are many barriers in our day to day life: bureaucracy, red tapism, caste, gender, nationality, social stigma etc apart from psychological and emotional barriers. Think of millions of ordinary people who beat against these barriers and seek help. Perhaps some good Samaritans or the Almighty will see our plight and open the doors for our salvation.

Roger Greenwald is a renowned American poet and an award winning translator of Scandinavian poetry.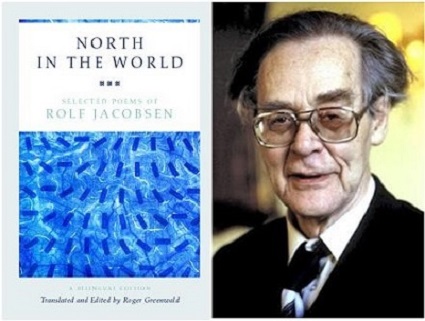 Source : Ref: North in the World: Selected Poems of Rolf Jacobsen - A Bilingual Edition. Translated and edited by Roger Greenwald. University of Chicago Press, 2002. ISBN 0-226-39035-7. Winner of the Lewis Galantière Award from the American Translators Association.